Biography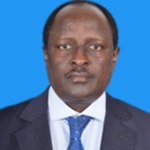 Ambassador. Joseph E. Sokoine
Deputy PS
Ambassador Joseph Sokoine is the Deputy Permanent Secretary in the Vice President's Office.
Educational Background
Ambassador Sokoine has a Master degree in Diplomacy and Trade from Monash University and a Bachelor degree in International Relations from the University of Belgrade.
Working Experience
He is a career diplomat who rose through the ranks from a junior office to an Ambassador. As an officer he served in Tanzania Mission abroad in the US and Canada before being appointed Director for Europe and Americas in the Ministry of Foreign Affairs and East African Cooperation.
He was later posted as Tanzania's Ambassador to Belgium, the European Union, Luxembourg and the African Caribbean and Pacific Group. In July 2018 he was appointed Deputy Permanent Secretary at the Vice President Office.